I'm rewatching every episode of the Man from UNCLE series from start to finish. This review may contain spoilers.
I like it when UNCLE and Thrush go up against each other over a third party, and that's what happens in this episode. A ring of diamond thieves engages in a plot to devalue the diamond market, and both Thrush and UNCLE are interestd in the result. I forget why Thrush cares, but UNCLE wants to protect the market, I guess because it would be globally destabilizing for the diamond market to bottom out.
It's Max who's in charge of the diamond ring, and in addition to laundering diamonds, he owns a nightclub. Seven years ago, he dated Mary Pilgrim, then a nightclub singer. Now Mary's an opera singer in New York, and it's UNCLE's ingenious plot to persuade her to rekindle her romance with Max so they can spy on him through her. If this sounds like the plot of the pilot episode, that's because it more or less is the same setup. Now, I think it could have been more effective had Mary been embroiled with Max already, but she was having doubts about his illegal side line, and so UNCLE comes in to take advantage of her misgivings. Instead, we do spend several minutes of screen time setting Mary up as a secret agent. we also spend a lot of screen time getting past some token doubts about lying to Max.
There's also a running gag about her over-protective voice coach who's always getting in the way. I think this would have been far more effective as an actual threat, though. What if the voice coach were loyal to Max and The Business, and Mary and Solo had to avoid her for fear of having their schemes discovered?
Betrayal
Despite me not liking the setup or the guest hero, the actual plot isn't really about any of that. The strength of this episode is the clever suggestion that UNCLE plants within the thieves that each one is betraying the other. The suspicion grows, while UNCLE and Thrush close in, and right up to the end you're not really sure who's got the upper hand.
There's a good amount of spy and counter-spy stuff in this episode, including a promising scene about hero sandwiches.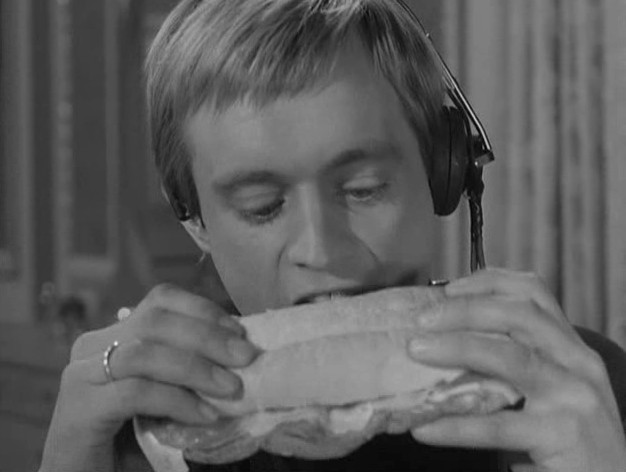 The nightclub scenes are a little lackluster, too. As nightclubs go, this doesn't come anywhere near Peter Gunn.
The episode as a whole is acceptable. The betrayal subplot is definitely the strongest element, although there's not enough of it.