I'm rewatching every episode of the Man from UNCLE series from start to finish. This review may contain spoilers.
This episode is everything, and nothing, I want from the Man from UNCLE. The premise for this episode is great. Thrush is developing a substance that completely vaporizes organic material, most notably humans. They've got a secret base somewhere deep in an Arabian desert, and Ilya Kuryakin is keeping an eye on it from afar. In the mean time, Napoleon Solo has tracked down an elderly paper-pusher, named David Lewin, who works in Thrush's administrative offices but is on the eve of retirement. Solo tells Lewin that Thrush is going to kill him at his retirement dinner because he knows too much, and so he should defect to UNCLE. Lewin does, and agrees to help Solo get into Thrush's offices to get hold of the documents pertaining to the Arabian Project.
The problem is that there's not enough plot to fill a whole hour. Ilya is captured by an Arabian tribe, and way too much time is spent on a wholly uninteresting (and acknowledged by the characters themselves) re-telling of Lawrence of Arabia.
Solo manages to sneak into Thrush's offices (did you ever wonder why buildings in the US don't have a 13th floor? it's because that's where the Thrush offices are). This is the real plot, even though the goal is very unclear (get some papers about the Arabian project). It's tense and secret agenty. I'd play this in a Shadowrun game. I love this stuff.
Unfortunately, Solo as usual keeps screwing things up. He knocks out a guard in the lobby and doesn't bother tying him up or calling for backup to apprehend him or anything, so obviously the guard gets up later and causes problems. The top Thrush official suspects Lewin from the start. Solo gets spotted by a hallway guard almost immediately, so he has to deal with that for a while.
Writing it out like that actually makes scenario seem really good. Lots of obstacles, near misses, and narrow escapes. But it doesn't play out that way. Instead, it's just Solo being an inept secret agent, as the plot sometimes demands, and it ends up being pretty disappointing. Worse still, in the end it doesn't matter. Napoleon doesn't get the papers he says he needs for some reason and hitches a ride to the Arabian desert with the official who decides to take Lewin as a test subject for vaporization.
Solo fights from the inside, Ilya and his new band of Arabian knights fight from the outside, and eventually the baddies get vaporized by an overflowing washing machine and our heroes escape. For comic effect, the Arabian princess who was going to sell Ilya off in exchange for a camel is now smitten by him and wants to marry him.
Guest stars
The credited guest star of the episode is Robert Ellenstein as David Lewin. The actor Ellenstein, at the time of filming, was 42 or 43 years old. For some inexplicable reason, they have him David Lewin, who's supposed to be retiring, at age 65. This is so atrociously obvious that I honestly thought it was going to be a plot point that he was actually a younger man in disguise. Not for one moment did I believe the actor was 65, but I couldn't imagine a reason they'd have cast someone below the target age unless it was a significant part of the plot. I'm positive there were older actors available. Heck, there were actors in this very episode who looked older than Ellenstein.
The real star of the episode, though, is Tom Hatten. This guy: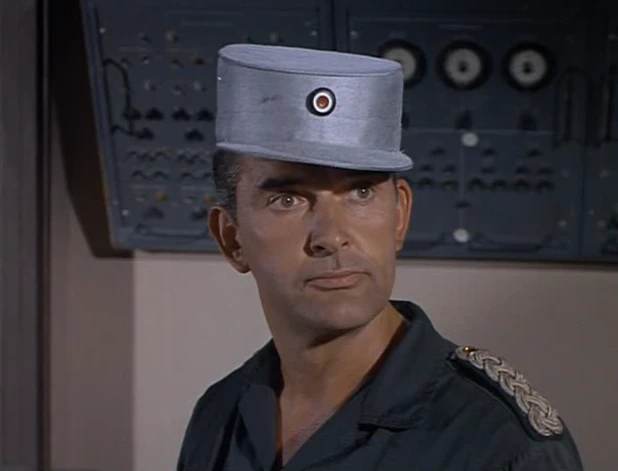 He's the most sincere and most cheerful evil scientist you'll ever meet. He's happy and excited about his work, he seems to get along well with his co-workers and is encouraging and supportive of his team.
This guy is a pleasure to watch, and I really really want to know his story. I think he probably gets vaporized in the end. Not a great loss, I guess, considering he's a ruthless murderer, but if you have to be trapped in a secret underground lair with an evil scientist, I think he'd be the one you'd choose.
All the right ingredients
Not the strongest episode, but I'm pretty sure I'd have loved it as a kid. On the surface, it has all the right ingredients, I just think the execution wasn't quite right.